2020-2021 Reflections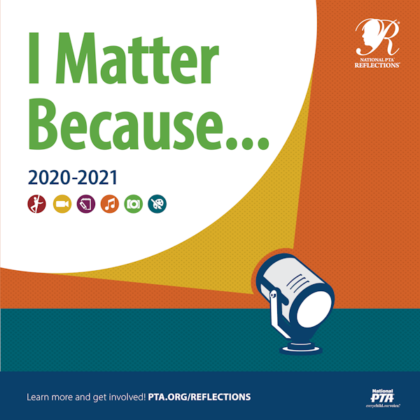 The theme for the 2020-2021 program year is I Matter Because…. Students submit their original completed works of art in one, or all, of the available arts categories: Dance Choreography, Film Production, Literature, Music Composition, Photography, Visual Arts.  Submissions will be virtual. Details to follow.
2019-2020 Shorecrest Council Finalists
2019-2020 Shorecrest Submissions
* Designates Honorable Mention
Congratulations to 2019 State Reflections Winner from Shorecrest High School!
Jerimiah Johnson, a 12th grader at Shorecrest won the first-place award of "Outstanding Interpretation" for his poem titled "Hero Around Me" in the special artist literature category.  He wrote his poem about his Teacher, Veronica Cook pictured here with him. We love their costumes that fit the "Heroes Around Me" Reflections theme this year.
There were approximately 900 submissions to state with only 92 finalists total.  Of those, there were 27 students who earned the first-place award of "Outstanding Interpretation" for their artwork.  JJ is now moving on to the national level competition!
National PTA believes all children deserve a quality arts education and encourages students to pursue artistic expres­sion through participation in its annual arts Reflections Program. The program offers students the opportunity to create and submit works of art in six areas:
Please click the link for the desired category for the entry requirements specific for that item.
In its 40 year history, the Reflections program has encouraged millions of students across the nation and in American schools to create works of art. Each year the Reflections Program challenges students to create art that supports a specific theme. Themes are selected from thousands of ideas submitted by students to the National PTA's Reflections Program Theme Search. .
Reflections Program Details
Young artists get involved in Reflections through their local PTA or PTSA. A student may submit an entry in any of six arts areas. Only original works of art are accepted. The six art areas are:
Literature — works of fiction, nonfiction, poetry, prose, drama, short stories and lyrics.
Music Composition — original musical composition, with or without words.
Photography — prints up to 11 x 14 inches in color or black and white, including techniques: photogram, retouched, montage, sandwich and multiple exposure.
Visual Arts — drawing, painting in tempera, oil, acrylic, watercolor & t-shirt paints, computer generated art, two-dimensional collage, printmaking, needlework & leather tooling.
Film/Video — original works, with or without sound, of animation, narrative, documentary, experimental or music video/film.
Choreography/Dance — originally choreographed dance composition.
Participation in Reflections is organized by student age and grade levels. Student works are critiqued against others in the same grade division. This allows recognition and judging of artworks by appropriate developmental age and skill levels. The grade divisions are:
Primary — Preschool – Grade 2
Intermediate — Grades 3 – 5
Middle/Junior — Grades 6 – 8
Senior — Grades 9 – 12
Entries are judged on creative ability and interpretation of the annual theme. The Reflections Program is structured for PTAs to recognize students at the local, council, state, and national levels. Entries are first judged at the local level and selected works are chosen to represent the PTA at each subsequent level. If a PTA is a member of a council, they will send the chosen entries to the council program according to the guidelines established by their council. If a PTA is not a member of a council, they will submit their entries directly to Washington State PTA.
Once entries reach the state level, the state PTA may select up to four entries in each of the six arts areas (a total of 24) to submit to the National PTA. National first, second, and third place, and honorable mention entries are recognized at the National PTA Annual Convention.
Entry forms for the Reflections program will be available at the start of the school year.
For questions please contact the Shorecrest PTSA REFLECTIONS committee at 
or